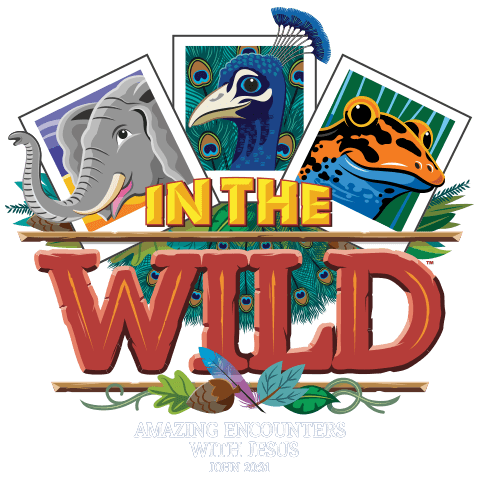 2019 Vacation Bible School
Theme Verse:
But these are written so that you may believe that Jesus is the Messiah, the Son of God, and that by believing you may have life in his name. John 20:31
MOTTO
Zoom in! Focus on Jesus!
Throw on your camera strap and buckle your seatbelt. VBS 2019 takes you on a wild adventure—with elephants and egrets, polar bears and penguins, cockatoos and crocodiles. As you seek out exotic animals, you'll also find snapshots of real-life encounters with Jesus in Scripture. Children go from bewildered to believing as they get In The Wild at this summer's VBS.
Day 1: Encounter in the Temple Luke – 2:41-52
Day 2: Encounter at the River Matthew – 3:1-17
Day 3: Encounter on the Water Matthew – 14:22-33
Day 4: Encounter at the Tomb – John 20:1-18
Day 5: Encounter on the Road Luke – 24:13-35
Worship Rally at Panoramic Point
Bible Study at the Watering Hole
Music at Bullfrog Bog—Swamp
Missions at Pachyderm Path
Crafts at Cockatoo Canopy
Recreation at Beluga Bay
Snacks at Grizzly Gulch
2019 Vacation Bible Schools-
"In The Wild" VBS– June 9th-14th
Mt. Zion Baptist Church
"In The Wild" VBS– June 21st-23rd
Peno Baptist Church
"In The Wild" VBS- July 7th-12th, 6-8 p.m.
Curryville Baptist Church
"In The Wild" VBS– July 7th-12th
Salem Baptist Church
"In The Wild" VBS– July 14th-18th Bowling Green Second Baptist Church
I kicked the Old School VBS – July 8th-11th, 6-8 p.m. Ramsey Creek Baptist Church
"In The Wild" VBS– July 28th- August 1st
Edgewood Baptist Church
"In The Wild" VBS– July 28th– August-2nd New Hartford Baptist Church
VACATION BIBLE SCHOOLS CHANGE LIVES
In 1968, a Baptist church on the west side of Columbus decided to hold its regular Vacation Bible School. Someone from that church invited Shirley, a nine-year-old girl, to attend along with her three brothers and sisters. The children had nothing better to do during the week, so they decided to attend. The family didn't have time to attend church; they spent their weekends getting together with friends and family to drink and play cards.
The parents were invited to the family night service on the last night of the VBS. Thinking their children would get bored during the week and drop out, they promised to attend only if the children attended VBS the entire week. Due to God's leadership in providing faithful, loving, caring teachers and a well organized VBS, the children enjoyed the experience and attended each session.
The parents kept their promise and attended family night. They were proud of the things the children learned and made during VBS and seemed to have a good time meeting the workers, but were glad when the evening ended.
A few weeks later, Shirley received a visit from her VBS teacher, Mrs. Hartley. She invited Shirley to sing in the children's choir during the church's upcoming revival. She offered to pick Shirley up if she needed a ride. Shirley liked her teacher and wanted to sing in the choir; her parents took her to each service of the revival so they could hear her sing. That initial contact with the message of Christ in VBS, plus the concern of a dedicated worker, has had the following results so far: Shirley's entire family of seven is saved; her father is a Southern Baptist preacher and her mother is a Sunday School teacher. Shirley's grandmother was saved at the age of 63. Shirley's aunt, uncle, and three of their children are saved; her uncle leads music in a Baptist church. Shirley's neighbors, a family of five, are all saved.
For video clips, go to http://www.lifeway.com/vbs